About Us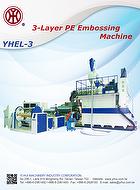 Yi Hui Machinery was established in 1986, it is a member of the Taiwan Association of Machinery Industry (the Association).
Our products include PE plastic extrusion machine, PP plastic extrusion machines, and recycling machines and wove embossing machine.
Our company are about to enter the 30 years, our products can be customized to the requirements of customers, because we have excellent quality. Each machine has a machine code and files, so the service will not have any problem!

More